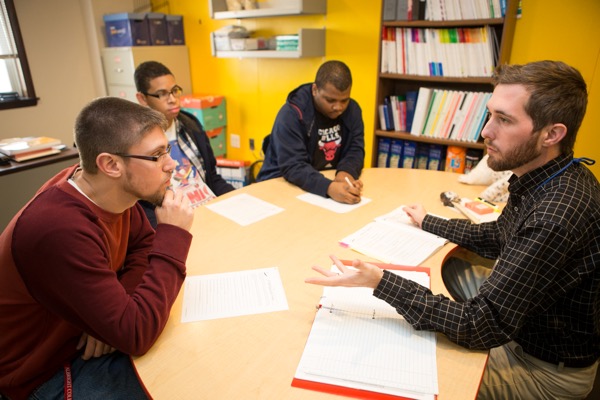 When your child is struggling in school, it can be difficult to know what steps to take. ATG offers the following steps for all students.
The educational team will evaluate IEP, transcriptions, Psychological Education Evaluation and other documents that give insight into child learning style.
Reviewing levels for reading and mathematics
Reviewing known learning disabilities
Reviewing recommended teaching methods
Review credits that will be accepted by ATG Learning Academy
Schedule academic classes and the material covered are aligned with the PA Department of Education standards
Schedule cognitive classes with Academic Classes
Goals set for the students each marking period
Benchmarks for Math (Comprehensive Mathematical Abilities Test) and English (Woodcock Johnson Reading Mastery III)
Cognitive levels tested for admission into the  Arrowsmith Program
Interims are reviewed by the students respective teachers
Parents are called if necessary
Report cards are presented 3 x's a year.   The first report card required a parent meeting.  This should be in person, but will accept phone calls.
Students earn grades for work completed in classes.
Students earn full credit when they are present minimum 80% of the time.
ATG's student record system is used to keep all parties in the loop of daily activities
Partner with Parents to achieve the best education for their child
Daily communication are accomplished through the electronic communication log
Partner with Districts to meet the requirements for outside placement
Attendance and grades are the most requested items
We look forward to meeting you!
Request More Information
To learn more about enrolling your child at ATG, please fill out the following form. A staff member will get back to you shortly.
Thank you!
Frequently Asked Questions
Did you know that our tuition is completely tax deductible as a medical expense.   "Overcoming the learning disabilities must be the primary reason for attending the school, and any ordinary education received must be incidental to the special education provided." (Publication 502 IRS)
For students enrolled in the academic day program, tuition for the 2022-2023 school year are $45,700.
Click Special Education to find out if it is tax deductible.
There are additional fees for speech therapy, occupational therapy, and tutoring.
Yes, there is funding available on a limited basis. To qualify for available scholarships and financial aid, parents need to apply via School & Student Services
You can include in medical expenses fees you pay on a doctor's recommendation for a child's tutoring by a teacher who is specially trained and qualified to work with children who have learning disabilities caused by mental or physical impairments, including nervous system disorders.
The admissions process includes a parent interview and file review as well as a student interview and screening. Upon acceptance, families are required to submit an initial deposit, complete a registration packet, and provide their child's most recent Psychological/Educational Evaluation.
We assist new students and families every step of the way, so do not hesitate to contact us with questions.